Patek Philippe Calatrava 18 CT Gold Automatic Kal 28-255 Watch Repair and Restoration
A customer from Chiang Mai has given me this valuable Patek Philippe Calatrava Automatic Men's Watch Trustfully for repair. The Kal 28-255 movement is just 2.5mm across and is housed in such a 18ct gold case. At first glance, I realized that water must have entered the case and damaged the dial. After opening the clock, I see that the movement is very rusty. The repair will take some time.

After the movement was disassembled into its individual parts, I could see the entire damage. The parts of the factory fastening, the elevator and the pointer setting device, the stone bearings of the rotor and the minute tube were heavily rusted. These parts could be derusted and polished. This was not possible with the locking spring of the automatic elevator and the pointer setting wheel No. 1.

I decided to make the locking spring myself. I was able to buy a dial from a Swedish company. Unfortunately the bore of the wheel did not fit 100%. To ensure the exact position I made a brass lining.

Now that all parts have been restored, the movement can be cleaned and then reassembled. You can already enjoy the precision of this wonderful construction. The regulation of this watch is somewhat unusual and is done by rotating small weights that are on the balance wheel. Finally, the dial and hands are removed from rust and dirt. This is done very carefully by hand.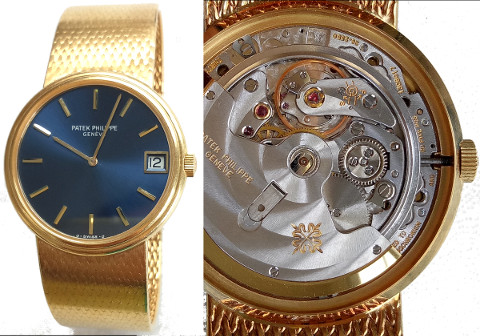 Patek Philippe Calatrava 18 CT Gold Automatic Kal 28-255 Watch Repair and Restoration