Rolex men's watch automatic DateJust 16200 caliber 3135 repair and service
I got this beautiful Rolex DateJust men's automatic wristwatch trustingly for repair. The owner told me he had been wearing this watch for 15 years. After opening, you can clearly see that 15 years has been too long. The clockwork looks totally worn out and the rotor has no more guidance.

The plant was completely dismantled and all parts checked. The rotor pin had to be replaced. Not an easy thing in 2020, as the whole world lies on the ground because of the Covid 19 virus. Spare parts from Europe are not available. I found what I was looking for at rianthongbangkok.com. You were able to send me the spare part for the Rolex watch cal.3135. Thank you so much! So this repair could be carried out and the clockwork works again perfectly.

The accuracy of the clock was somewhat, 10 seconds in plus. A Rolex 3135 does not have a spiral key for regulating. There are 4 small weights on the balance wheel, the position of which can be changed to the outside tire. In my case, the mass had to be increased a little. A quarter turn to the right, i.e. outwards, was sufficient. The accuracy was now:

Dial up +3 seconds a day
Dial down +5 seconds a day
Crown down - 2 seconds a day
Now the case and bracelet have been cleaned and the seals replaced. This watch will now delight its owner for the next 7 years. Please remember. After 7 years, a mechanical watch should be brought to service.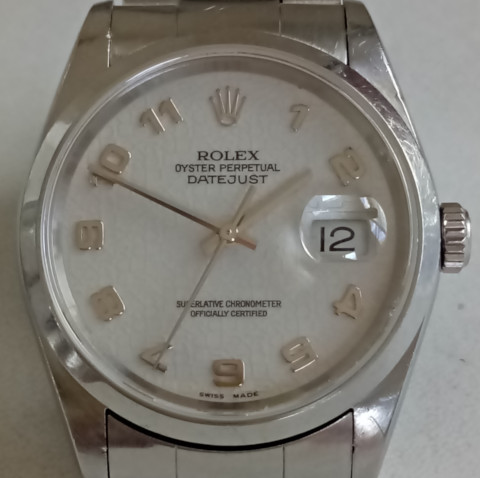 Rolex men's watch automatic DateJust 16200 caliber 3135 repair and service