Repair of a table clock with escapement and striking mechanism from the beginning of 1900
This table clock has a very solid clockwork with a short pendulum and 3 wheels after the minute wheel. The escapement was designed as a simple hook escapement. A modern arithmetic mechanism with Bim-Bam stroke does its job here.
When repairing this table clock, the locking wheels and pawls were revised, which are very worn. The hook and all cones have been polished. Then the bearings were narrowed and rubbed back to the correct size. After cleaning, the movement was assembled and the striking mechanism and the aisle straightened. This watch will delight its owner for many years now.
The pictures in detail:
Very nice, well-preserved wooden case
Attaching the minute drive to the minute wheel shaft.
The gear train without cover plate.
The assembled gear train with slide mechanism.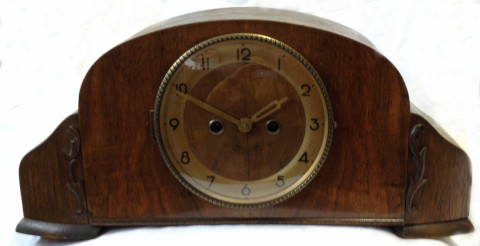 Repair of a table clock with escapement and striking mechanism from the beginning of 1900